Our Enviro ATD30 is the ultimate triple disc, multi-purpose seeder.
Featuring opening Turbo Tilth discs to cut through trash, and followed by large 400mm diameter plain discs, narrow "V" spaced double discs for excellent ground penetration, and accurate seed and fertiliser placement.
The double disc and depth control press wheel assemblies are mounted on parallelogram systems for superb contour following.
Customise this drill for your needs by choosing a row spacing, adding a steering axle, brakes, stabilising wheels, bin cameras and extra hoppers for small seeds and pesticides.
Operation size:
300Ha plus
Key Features
Duncan touchscreen electric drive system with GPS speed sensing
Optional ISOBUS or ISOCAN system upgrades for integration to tractor control screens
Stainless steel Amazone metering units with exchangeable cartridges which are very easy to calibrate, for sowing a variety of small to large seeds, and fertilisers
Large 406mm diameter Turbo Tilth blades cut slots into the toughest of ground conditions
Large 400mm plain discs mounted in a narrow "V" penetrate and open up the slots for

accurate seed and fertiliser placement

Depth control press wheels control the sowing height and close the slot, enhancing seed to soil contact.
Bin level sensors in hoppers
Large 1300 litre split hoppers
500/60-22.5 wide flotation transport wheels
2 point hitch tow coupling for easy maneuverability
Technology
Air seed distribution
Our air distribution systems consist of a high-speed hydraulically powered fan, which blows air through a venturi system and distributor heads out to the ground engaging components, which are either discs or tines.
Seed and fertiliser is metered out of the storage hoppers and drops into the passing airstream.
The fan has an oil cooling radiator mounted to the suction inlet which warms and dries the air to minimise blockages in humid conditions.
Air distribution is excellent on hills, uneven terrain or smooth worked ground because the seed is always being blown to the ground, rather than relying on gravity, chatter and hose vibration.
The air hoppers are typically larger than the gravity boxes so they are easier to fill, and air seeders can be wider than gravity drills and easily folded up to a transport width.
Triple disc technology
Has an independent 400mm diameter fluted opening disc, mounted well forward of each double disc assembly, which allows the drill to break into extremely hard ground and cut trash.
The double disc setup follows directly behind the opening disc, holding the slot open while the seed and fertiliser is placed into the slot.
The sowing depth is accurately controlled by a following press wheel, which also closes the slot. The depth setting is individually set on each press wheel.
A parallelogram system with 400mm of vertical travel gives the individual double disc units superb contour following for constant control of seed and fertiliser depth.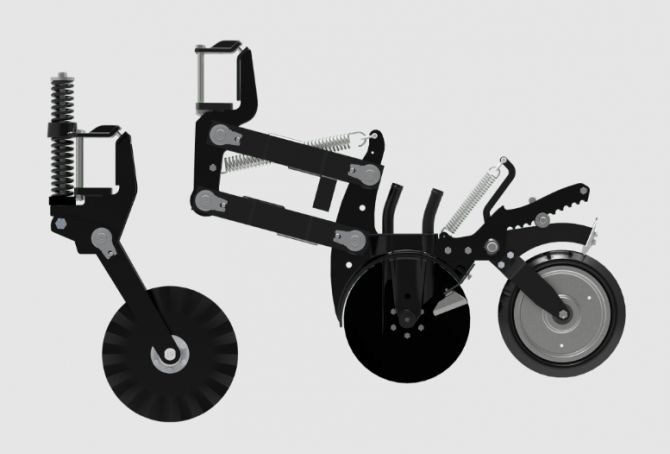 Duncan touchscreen electric drive
All ATD drills have our high torque electric drives and a touchscreen electronic rate control. This advanced system is simple to use and gives the user instant feedback about the operating state of the drill.
Packed with features, including:
* Precision and flexibility to vary planting rates electronically
* Fingertip calibration adjustments
* Includes touch-screen control for turning planting on and off
* Checks drilling rates and areas planted in real time
* High torque electric motor drives and reduction gearboxes
* Visual and audible warnings of drilling rates and bin levels
* Transfer job data between the field and the office using a USB port
Add a GPS aerial for coverage mapping, record keeping and proof of planting.
Enviro ATD30 Specifications
| | 25 Row | 27 Row |
| --- | --- | --- |
| Sowing width (mm) | 3100 | 3100 |
| Overall width (mm) | 3100 | 3100 |
| Overall length (mm) | 6100 | 6100 |
| Height - Working height (mm) | 2790 | 2790 |
| Height - Transport height (mm) | 3330 | 3330 |
| Unladen weight (kg) | 6600 | 6600 |
| Row spacing (mm) | 125 | 115 |
| Hopper capacity (l per side) | 1300 | 1300 |
All Models In Range